Meeting Information
Time: 7:00 PM
Date: the third Tuesday of each month
Assume the Primary Location will be
used, unless noted otherwise in the
Club Meetings section.

Primary Location: Belgrade Senior Center
93 East Cameron Ave., Belgrade, MT

Alternate Location: Club Workshop
856 Glider Lane C5, Belgrade, MT

Alternate Location: Wilson School
404 W. Main St., Bozeman, MT
Room 217a
(parking on west side of building)

Alternate Location: Chief Joseph Middle School
4255 Kimberwicke St, Bozeman, MT
(Baxter lane to Ferguson,
turn north on Ferguson,
the school is on the left)
Contact Information
For more information, you may write to:

Bozeman Gem and Mineral Club
P.O. Box 11001
Bozeman, MT 59719-1001

Or e-mail:

bgmcmt@gmail.com


Welcome
The Bozeman Gem and Mineral Club, organized in 1939, is the oldest "rock club" in Montana.
Club members have a wide range of interests including:
fossils
mineral specimens
faceting
jewelry design
gemology
geology
and lapidary arts
Through the various Club programs, affiliations, and activities, we have fun, improve our knowledge and skills, and educate our youth and the public. We welcome you to join us in pursuing this great, wholesome family hobby.
Upcoming Events - 2023:
Club Meetings:
November 14
December 8 (Friday) - Christmas party, 5:30pm at the Bozeman Senior Center
Note that the November meeting is a week early to avoid any conflicts with Thanksgiving.
Field Trips:
(Watch for emails containing details for each trip)
No more trips until spring...
Other Events:
Christmas Party: December 8 - 5:30pm at the Bozeman Senior Center (807 N. Tracy Ave., Bozeman MT).
The club will provide the main dish of Ham and/or Turkey. We ask people to bring a pot-luck side dish or desert to share. Also please bring your own plate, utensils and beverage (no alcohol is allowed at the Senior Center). We expect a huge silent auction, a live auction, and lots of fun... Anyone can bring items for the silent or live auctions - and they don't need to be rock related. We often have items like homemade jams and jellies.
May Gem and Mineral Show Vendors:
For any questions, comments or information about setting up as vendor, please send an email to the show committee at bgmcmt.vp@gmail.com.

Club Workshop:
In the summer of 2021, the building that we rented for our club lapidary workshop went up for sale. Given the current high rent cost in the Gallatin Valley, we opted to buy the building. Various club fund raising events (shows mostly) almost cover the workshop costs... So we now have a gofundme page, that we hope, with some small donations, will help offset our funding shortfalls.
www.gofundme.com/f/bzngmclub

New Meeting Location, as of June 2022
Meeting attendance has increased, and it's becoming crowded at the workshop. So we've secured the Belgrade Senior Center as our meeting location for the remainder of the year. It's a nice, more spacious facility, located at 93 East Cameron Avenue, Belgrade, Mt. It's near the corner of East Cameron and Broadway, just off Dry Creek Road, less than half a mile north west of the Airport roudabout.
Miscellaneous Items
SHOWS:
The Bozeman Gem & Mineral Club hosts an annual show in late Spring at the Gallatin County Fairgrounds. The primary purpose of the show is to acquaint the general public with our hobby and share the beauty of, and fascination with, our displayed collections. It is also a great place to meet other rockhounds, add to your collection from dealer offerings, and provide a variety of fun and inexpensive activities for young visitors. An admission fee is usually charged non-members to cover the costs of putting on the show. A successful show is the cooperative effort of all club members.
ASSOCIATIONS:
The Montana Council of Rock & Mineral Clubs: An association of Gem & Mineral clubs in the State, the Montana Council promotes interest in rockhounding through education of members, schools, and the general public about the hobby. The Council also helps members stay informed regarding legislative and regulatory matters that impact field access and collecting. The Council makes most gem & mineral shows in the State possible; It owns, and makes available to member clubs, the showcases that are used for displays at the shows, and it provides the trailer to transport them.

The Northwest Federation of Mineralogical Societies: An association of rock clubs in Alaska, Idaho, Montana, Oregon, Utah and Washington, the Federation sponsors an annual show, hosted by a member club. Members from throughout the clubs of the Federation participate in the Federation shows and clubs send delegates to the Federation business meetings held during the show. The NFMS also sponsors a variety of lapidary arts workshops and field collecting trips, and loans DVD and slide show presentations to member clubs for monthly meeting programs.

The American Federation of Mineralogical Societies: An association of rock clubs throughout the United States, the American Federation, in cooperation with regional Federations, sponsors a variety of programs including the offering of student scholarships, education of members and the general public about rockhounding, and fostering international relations.
Belonging to these associations provides contact with rockhounds from around the state, region, and country, often leading to field trips to areas we might not otherwise be aware of. It also brings guests from other areas to our club meetings with samples of materials from their area. Our club has enjoyed guests from several states and foreign countries.
DISPLAYS:
Club-owned or donated materials are displayed in the County Courthouse and often loaned for display to area museums.
Club-owned or loaned, gems and minerals are on display in the Montana case at the Gallatin Yellowstone Airport.

FIELD TRIPS:
When weather permits, club members try to get in at least one field trip per month. Most are one-day excursions to a collecting site for a particular material. On past field trips, participants have collected garnets, petrified wood, tourmaline needles, rhyolite, jasper, agate, calcite, sapphires, corundum, and various varieties of quartz crystals (including amethyst). The club currently maintains 2 quartz mining claims in the Highlands area (SW of Whitehall) and in the Boulder Batholith.
As well as collecting opportunities, field trips provide a time to become better acquainted with fellow club members while sharing an enjoyable, and occasionally exciting, time.
AFMS Code of Ethics
Calendar 2023
Club Meetings:
Unless otherwise specified, all meetings are 7:00 pm, as specified in the sidebar.
January 17
February 21
March 21
April 18
May 16
June 20
July TBD - Picnic
August 15
September 19
October 17
November 14
December 8 - Christmas party
Area Rock Shows
Tucson, AZ: Annual Tucson Gem and Mineral Show, February 9 -12. This years theme is "SILICA - Agates and Opals and Quartz, Oh My!". For more information see: http://www.tgms.org/show/. Note other associated shows in Tucson start as early as mid January. For more details, see: https://tucsongemshow101.com/schedule-2023.
Kalispell, MT: Gold, Gem and Mineral Show, March 11 - 12, Flathead County Fairgrounds Expo Bldg; 265 N. Meridian Rd.
Missoula, MT: Hellgate Mineral Society Rock Show, March 18 - 19, Hilton Garden Inn; 3720 North Reserve St.
Helena, MT: Helena Mineral Society Rock Show, April 22 - 23, Helena Civic Center.
Idaho Falls, ID: Idaho Falls Gem and Mineral Society Rock Show, TBD, Idaho Falls Recreation Center, B Street.
Bozeman, MT: The Bozeman Gem & Mineral Club Rock Show, May 13 - 14, at the Gallatin County Fair Grounds, 901 N. Black.
Butte, MT: The Butte Gem & Mineral Club Rock Show, May 20 - 21, at the Butte Civic Center Annex, 1340 Harrison Ave.
Hamilton, MT: The Biterroot Gem and Mineral Society Show, June TBD, at the Ravalli County Fairgrounds, 100 Old Corvallis Road.
Billings, MT: The Billings Gem and Mineral Club Show, August 3 - 6, Billings Hotel and Convention Center, 1223 Mullowney Lane. NOTE: This is also the Northwest Federation and American Federation show for 2023!
Denver, CO: The Denver Gem and Mineral Show, TBD for the main (Denver club) show. Related area shows (Coliseum, Expo, Miner's Co-op, etc.) start earlier.
Club Field Trips
May 28: Sweetwater Basin: past Ruby Reservoir. For garnet, corundum, and possibly rhyolite. Deails TBD.
July 2: Hyalite Canyon for galena, barite, and possibly jasper. See emails for details.
July 8 or 9: Portal Creek for agatized and jasperized wood See emails for details.
July 23: Butte Mineral Museum and Ringing Rocks. See emails for details.
July 29: South of Livingston for aventurine. See emails for details.
August 27: Gem Mountain for sapphires.
August 28-29: Club Claim #1 for quartz crystals.
September 2 or 3: Driving geology tour between Homestake and Pipestone.
September 10: Sweetwater canyon for picture rhyolite.
September 14-18: Utah collecting trip, centered in Delta Utah.
September 22-24: Montana Crystal Collectors, at the Montana Tech campus in Butte.
September 29 - October 1: Townsend fair - the club will have a booth with rocks for sale.

Photos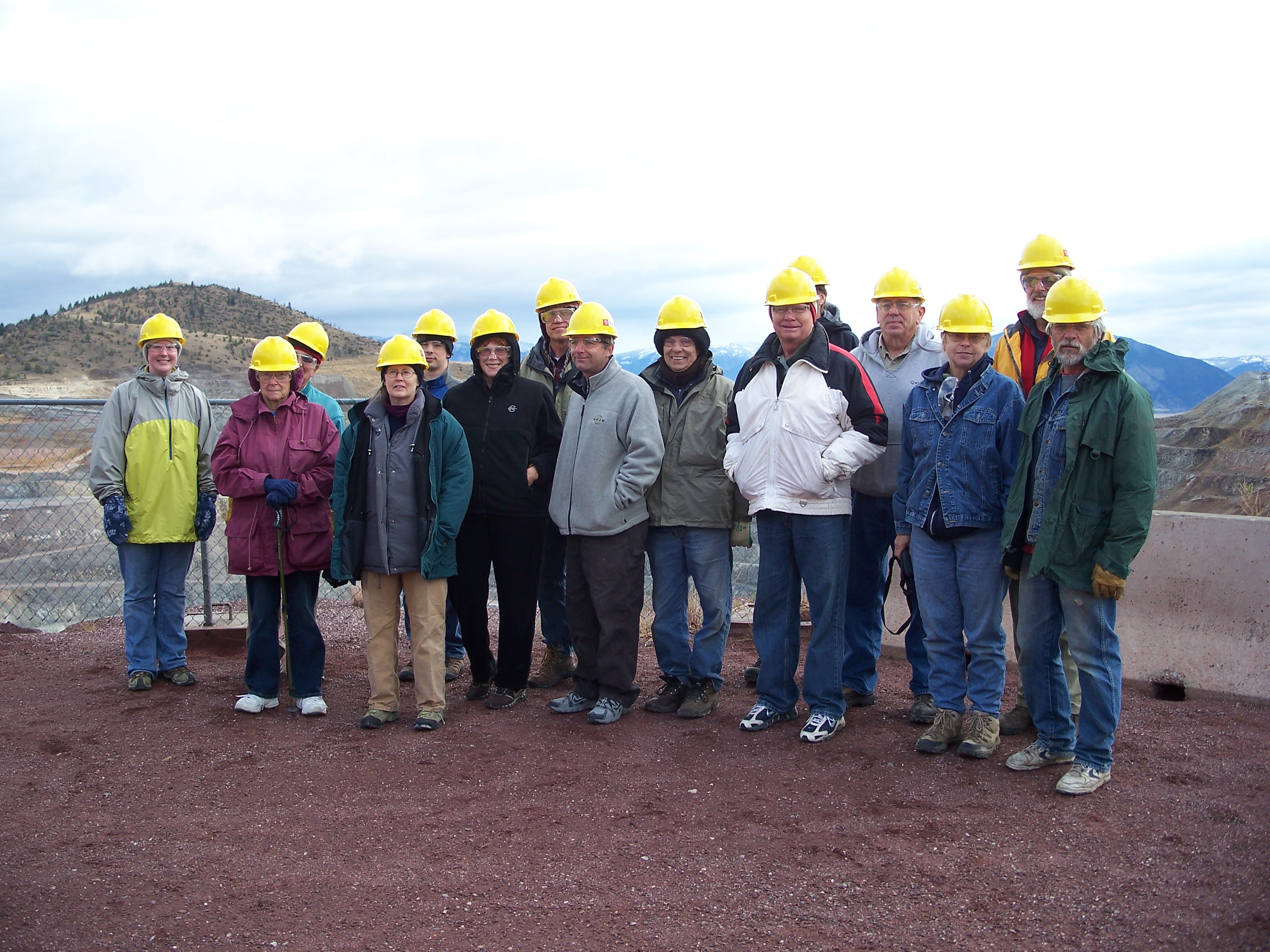 Talc Mine 2011
Membership
Memberships are available to anyone interested. Many members start out knowing only two kinds of rocks: pretty ones and ugly ones. With the willing sharing of information and skills by seasoned members, new members quickly learn to identify various rocks, minerals, and gems – and learn how to use and display them.

Memberships are available to families or individuals. Annual dues include membership in the Montana Council of Rock & Mineral Clubs and The Northwest Federation of Mineralogical Societies (NFMS), The American Federation of Mineralogical Societies, and subscriptions to A Stone's Throw (the club's monthly newsletter), The Montana Council Reporter, and The Northwest Newsletter.

Memberships are due between November and the end of January for the new year.

Memberships are $20.00 per adult
$30.00 per family
Dues may be sent to our address or given to our Treasurer at a meeting.
Frequently Asked Questions
------------------------------------------------------------------------------------
• What should I consider bringing on a field trip?
List of tools and equipment for rock club field trips: (updated 7/1/2012)

When going out for a day of rock-hounding, consider where we will be going and ask the trip leader what he/she suggests. Some areas are very isolated, so come prepared with the basics. These include a backpack for carrying food and water, sunscreen, bug spray, and tools. Lunch is your choice – bring what you like; remember to bring some snacks and plenty of water. Other items you might want to include would be a small first-aid kit, toilet paper, sunscreen, bug spray, eyewash, and tweezers. Bear spray is a good option when hiking in the mountains. The right clothing can make the outing more enjoyable. Bringing a hat or vest in hunter orange or bright pink could be helpful as these colors make you easier to find in case of accident. Temperatures can change quickly, so layering is suggested and long sleeves, hats (especially wide-brimmed varieties) are a good option; sturdy hiking shoes, gloves, and raincoat or poncho. Water-soaked (evaporative-cooled) neck wraps on hot days. Walking sticks are also useful.

Please police the area you are leaving and take out any food wrappers or garbage. We carry out what we carry in -- plus rocks of course.
Do not dig under living trees in the rootball or cut large roots of living trees.

Deciding which tools to bring depends on the outing and whether you will be hiking short or long distances. Driving directly to a site allows for the use of larger, heavier tools. Hiking longer distances usually limits the amount of weight you want to carry. Members carry most of the tools with them in their vehicles, giving them the option to decide which tools they want to take to the collecting site.

Screens for sifting dirt and gravel. Round screens (sets of two or three) available at our local rock store (Earth Treasures) or square screens you can build yourself

Containers. One or more 5-gallon buckets for carrying any rocks you find
Plastic baggies and paper for wrapping individual or smaller specimens
Small shoe boxes for fragile specimens like fossils

Pick, shovel, crowbar and maul. Consider a smaller version of the crowbar and shovel for longer hikes

Rock hammer. Any tool that can help chip or break rock

Smaller digging tools. Trowels, small claw-like implements, chisels; and screwdriver-like tools, crevicing tools, or the handle of a cut off paint-roller (ask John Usher). These latter 3 are good tools for probing cracks and small pockets

Knee pads or kneeling pad. Helps when doing a lot of kneeling or digging close to the ground

Gold pan. Just in case you find a good spot to try (you never know)

The club is always looking for more efficient and interesting new tools that make rock hounding easier and more enjoyable; so if you have suggestions for tools that are not on the list, please let us know.
--------------------------------------------------------------------------------------------
• What are the directions to our Club's #1 clear quartz crystal claim?
This claim in the Highlands area in the Beaverhead - Deerlodge National Forest is accessible for use only by active Club members. Simply call or email Ken Zahn (406-582-8752) (kczahn@littleappletech.com) and directions will be provided. A 4x4 vehicle will be needed.
--------------------------------------------------------------------------------------------
• If I want to rent the Hell's Canyon Ranger Station cabin near Claim #1, how do I do it?
This great cabin is rentable for the daily rate of ~ $34. Go to the following website for cabin site-related information, schedule of date availibilities, on-line renting, etc: http://www.reserveamerica.com/camping/Hells_Canyon_Guard_Station/r/campgroundDetails.do?contractCode=NRSO&parkId=75220
------------------------------------------------------------------------------
• What was the info presented at the April 2012 Club meeting on collecting sites in Utah?
Background Info on Collecting Sites in Utah:

• Google Searches
• Utah Geological Survey (in SLC):
http://geology.utah.gov/utahgeo/rockmineral/index.htm
• Utah Outdoor Activities (Trilobites, Fossils, Dugway Geodes, Sunstone, Wonderstone, Topaz, Obsidian, Smokey Quartz, Amethyst/Bixbyite): http://www.utahoutdooractivities.com/rock.html

• UGS/UGMS Map and Bookstore:
The Bookstore is located on the first floor of the Department of Natural Resources building on the corner of West North Temple and Redwood Roads in Salt Lake City. Their business hours are 8:00 AM to 5:00 PM Monday through Friday. 

The Utah Department of Natural Resources Map and Bookstore carries a variety of books, maps and publications published by UGS as well as private publishers. This is the state's official source for USGS topo maps as well as geological maps. For online purchase of publications on recreational collecting in Utah (and a few from surrounding states), see: http://www.mapstore.utah.gov/Rockhounding-Books/
• Some of my favorite general collecting books/pamphlets include:
• Gem Trails of Utah
• Rockhounding Utah
• Rock, Mineral, & Fossil Collecting Localities of Utah
• Minerals and Mineral Locations of Utah; Bullock; UGMS Bulletin 117
• Rockhound Guide to Mineral and Fossil Localities in Utah; Stowe and Perry; UGMS Circular 63
• Semiprecious Gemstones and Ornamental Stones Found in Utah; M.R. Smith; UGMS Misc. Publication # 87-6
• Gold Placers in Utah; UGMS Circular 47

• Rules/Regulations for Collecting: http://geology.utah.gov/online/pdf/pi-23.pdf

• Statewide Mining Activity Summary:
http://geology.utah.gov/online/c/c-114.pdf

• Mineral Collecting:
• Gold: See: http://geology.utah.gov/online_html/pi/pi-50/index.htm http://geology.utah.gov/online_html/pi/pi-50/pi50info.htm
• Gold Placers in Utah; UGMS Circular 47; 1966.

• Meteorites in Utah:
http://geology.utah.gov/surveynotes/gladasked/gladmeteorites.htm

• Beryllium and Red Beryl:
• Commercial Beryllium Slide Show and Text: http://pubs.usgs.gov/of/1998/ofr-98-0524/index.html
• Red Beryl: http://geology.utah.gov/surveynotes/gladasked/gladberyl.htm and:
• http://blog.treasuremountainmining.com/category/mineral-species/beryl/

• Topaz:
• Neat cluster from the Thomas Range: http://www.mineralmarket.com/TopazMtn/rocket.html
• Best Book ($25): http://www.mineralmarket.com/trbook/
• Info: http://pioneer.utah.gov/research/utah_symbols/gem.html and http://www.mineralmarket.com/TopazMtn/topazmt.html#3d
• Nice 7-minute Video of Topaz Cove Collecting in Thomas Range: http://www.minerals.net/mineralvideos.aspx

• Red Horn Coral (Reilly Canyon, but there are other locations too):
• Pictures: http://www.greatrough.com/rough_horn-coral.shtml
• Trip Summary: http://www.wasatchgemsociety.com/Red%20Horn%20Coral%20Fossil%20Beds%202008.html
• Trip Plans: http://utahrockhounding.yuku.com/topic/489#.T43Qxe1tfzI

• Trilobites:
• Great Video on the Best Fee Site: http://www.youtube.com/watch?v=hI5QZCUXLvo&feature=relmfu
• Lesser Video: http://www.youtube.com/watch?v=1XWm3VWajCE&feature=related

• Sunstone:
• SW of Delta: http://www.utahoutdooractivities.com/rock.html

• Goethite/Limonite after Pyrite (Pelican Point, Lakeside Mtns, Utah Lake):
• Good Picture, Sample MD234874: http://www.irocks.com/render.html?species=Pyrite&page=24
• Great Examples; scroll down about ½ way to 9 pictures.
• Directions & GPS Coords: http://user.xmission.com/~jbdaniel/utah.htm
• GPS Location and general directions (see John Usher): "40°14'36.37"N
111°52'53.01"W

If you park in Little Cove where everyone is usually shooting, just walk up the valley to the saddle and you'll be there." Taken from: http://rockhoundguide.blogspot.com/2009/04/pelican-point-again-pyrite-pseudomorphs.html
• Mineralogical Record, Vol 27, pg 59n.

• Wonderstone/Picture Rhyolite:
• Polishing: http://ganoksin.com/blog/taogem/2010/05/30/wonderstone-rhyolite-holy-cow-verses-tin-oxide-polish/
• Directions and Summary: http://geology.utah.gov/utahgeo/rockmineral/collecting/hpwndrst.htm
• Good directions: http://rockhoundblog.com/regular-postings/wonderstone-vernon-hills-tooele-county-utah-rockhounding-map-directions/

• Dugway Geodes:
• Directions: http://www.utahoutdooractivities.com/geodes.html
• Summary: http://www.utahoutdooractivities.com/geodebedscamp.html

• Septarian Nodules:
• Near Oderville area: http://www.rockhounds.com/rockshop/utsites.html
• Also in Kane County: http://www.mcrocks.com/ftr08-2/StreeterSeptariansMay02.html
• Near Alton, UT: http://user.xmission.com/~jbdaniel/kane.htm

• Variscite:
• Pictures: http://www.irocks.com/render.html?species=Variscite
• More pics: http://www.johnbetts-fineminerals.com/jhbnyc/mineralmuseum/gallery.php?init=Variscite
• Classic Fairfield (Clay Canyon near Toelle) locations closed & reclaimed.
• Lucin area location: http://www.mindat.org/maps.php?id=185109

• Rock Shops: See list at: http://www.utahrockhounds.com/rockshops.htm

• Utah Rock hound, Gem, and Mineral Clubs (see also: http://www.rmfms.org/member_clubs.htm)

This is not a complete list of rock, gem, and mineral clubs. Some clubs may not meet during the summer months. Times, dates, and addresses of meetings may change without notice. If you are aware of any changes, please pass this information on to christinewilkerson@utah.gov.

Beehive Rock and Gem Club, 
P.O. Box 1011
Odgen, UT 84402. 
Meets 4th Thursday of each month, 7:00 p.m., in the commons room of the Ogden-Hinkley Airport Terminal 3900 South Airport road, Odgen, Utah.
 Website: www.beehiverockandgem.com

Cache Geological and Archeological Society, 
P.O. Box 3690, 
Logan, UT 84323. 
Meets 2nd Thursday of each month, 7:00 p.m., Logan City Library.
Website: cachegeologicalsociety.yolasite.com

Color Country Gem & Mineral Society, Inc.
, P.O. Box 769
 Panguitch, UT 84759.
 Meets 2nd Tuesday of each month, 7:00 p.m., Senior Citizens Room, Garfield County Courthouse, 55 South Main Street, Panguitch, Utah.

Dixie Rockhounds 
St. George, UT. 
Unsure if this club still exists (08/05/2010).

Golden Spike Gem & Mineral Society, 
P.O. Box 12835, 
Ogden, UT 84112-2835. 
Meets 3rd Wednesday monthly (except April [New Show Month], August & December), 7:00 p.m., Union Station, Dumke Room, 2501 Wall Ave., Ogden, Utah. 
 Website: www.goldenspikegem.org 
Email: club@goldenspikegem.org
 Phone: 801-648-5060

Mineral Collectors of Utah, 
P.O. Box 253, 
Salt Lake City, UT 84106. 
Meets last Wednesday of each month, 6:30 p.m., Sprague Library in Sugarhouse, 2131 South 1100 East. 
Website: www.mcutah.org/Community

Moab Points & Pebbles Rock Club, 
P.O. Box 1459, 
Moab, UT 84532. 
Meets 3rd Thursday of each month, 7:00 p.m., Grand Center,182 N, 500 W, Moab, Utah.
 Email: moabrockclub@live.com

Northern Utah Prospector's Association (N.U.P.A.) 
P.O. Box 13301, 
Ogden, Utah 84412. 
Meets 4th Tuesday of every month, 7:00 p.m., main terminal of the Ogden-Hinkley Airport. All meetings are free and open to the public. 
Website: nupagold.tripod.com

Southern Utah Rock Club, 
P.O. Box 1712, 
Cedar City, UT 84721. 
Meets 1st Tuesday of each month, 6:00 p.m, Cedar City Library in the Park, 303 N 100 E

Tooele Gem & Mineral Society, 
P.O. Box 348
Tooele, UT 84074. 
Meets 2nd Tuesday of each month, 7:30 p.m., Senior Citizens Center, 59 East Vine Street, Tooele, Utah.
 Website: www.utahrockhounds.com/tooelegem

Timpanogos Gem & Mineral Society
, P.O. Box 65, 
Provo, UT 84601. 
Meets the last Wednesday of each month, January through October. Meets the 3rd Wednesday of the month, November and December. 7:00 p.m. at Provo Eldred Center, 270 West 500 North, Provo, Utah. Come through the back doors. 
Website: http://timprocks.weebly.com
Email: krfackrell@msn.com

Utah State Federation of Gem & Mineral Societies, 
213 East Leslie Avenue
, Salt Lake City, UT 84115

Wasatch Gem and Mineral Society, 
P.O. Box 1397, 
Sandy, Utah 84091. 
Meeting: 3rd Monday of each month at 7:30 p.m. at Bicentennial Hall in Sandy, 530 E. 8680 S.
 Website: www.wasatchgemsociety.com 
 Email: wasatchgemsociety@hotmail.com

Utah Gold Prospectors Club; Phillip J. Yadanza, President, West Valley City, UT, 801-965-1662, Internet: www.utahgold.org (current as of 2/15/11).

Northern Utah Prospectors Association; P.O. Box 13301 Ogden, UT 84412; Internet: nupainc.org (current as of 2/15/11).

Also check under Metal Detecting Equipment and Rock Shops in the telephone directory.